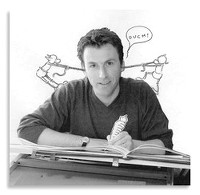 David Melling er enskur myndprýðari og rithøvundur. Hann byrjaði at tekna fyri bløð og lýsingarfyritøkur í 1986, og í 1993 teknaði hann fyrstu ferð eina barnabók.
Sína egnu myndabók teknaði og skrivaði hann í 2002. Tað var bókin The Kiss That Missed. Hon var í uppskoti til Kate Greenaway heiðurslønina.
Higartil hevur hann myndprýtt einar trýss bøkur og bæði skrivað og myndprýtt umleið fimtan teirra.
Hann býr í Oxford við konu og tveimum børnum.

Útgáva:
2014 Klemmiligi Klæmint
Klemmiligi Klæmint og vinir. Ítrivsbók
Mín fyrsta ítrivsbók um Klemmiliga Klæmint
Klemmiligi Klæmint finnur eitt klemm

Heimasíða:
www.davidmelling.co.uk
---