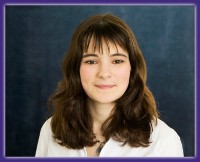 Sally Nicholls er enskur rithøvundur, fødd 22 juni 1983 í Stockton- on –Tees.
Aftaná skúlan fór hon at ferðast í Japan, New Zealandi og Australia, og heimafturkomin fór hon at lesa og tók prógv í heimspeki og bókmentum.
Hon býr nú í London.
Útgávur:
2008 At liva í allar ævir
Umrøða:
Mal Peet: Towards the end. The Guardian 26. januar 2008
Deborah Johnson: Dying is such a mystery. The Northern Echo 11. februar 2008
Mike Blackburn: Sally´s first novel is a winner. Evening Gazette 15. februar 2008
Catherine Foley: Children´s Novelist wins Glen Dimplex New Writers Award. The Irish Times,
11. november 2008
Joel Rickett: Sally Nicholls: Looking death in the eye. Bookseller.com 28. november 2008.
Viðtal:
Marie-Louise Jensen tosar við høvundan
Children´s Book Week: Interview with Sally Nicholls
Heiður:
2008 Waterstone Children´s Book Award
Glen Dimplex New Writers Awards
2009 Manchester Book Award
Die Zeit LUCHS des Jahres
Heimasíða:
www.sallynicholls.com
www.waystoliveforever.co.uk
---