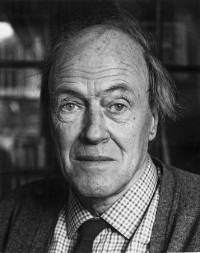 1916-1990
Roald Dahl var bretskur rithøvundur, føddur í Llandaff í Wales.
Foreldrini vóru norsk, og pápin og ein systir doyðu longu, tá ið Roald var trý ára gamal. Hann hevði stóra virðing fyri mammuni sum var gift tvær ferðir og átti fýra børn, umframt tvey stjúkbørn. Hann hevur brúkt mammuna sum fyrimynd fyri ommuna í bókini Heksirnar.
Í 1942 hitti hann C. S. Forester. sum skrivaði Captain Hornblower. Hann eggjaði honum til at skriva.
Fyrstu fimtan árini skrivaði Roald Dahl stuttsøgur til vaksin, men so fór hann at skriva til børn. Tær fyrstu søgurnar vóru søgur, hann fann uppá at fortelja fyri døtrunum Oliviu og Tessu.
Hann hevur sjálvur sagt at: "Tað er torførari at skriva barnabøkur (enn bøkur til vaksin). Tað er verri at halda áhuganum hjá einum barni fastum, tí eitt barn fær ikki hugsavnað seg sum ein vaksin. Barnið veit, at sjónvarpið er inni við síðuna av. Tað er hart at fanga hugin hjá einum barni, men tað er stuttligt at royna."
Hann hevur skrivað ein hóp av barnabókum m.a. James and the Giant Peach, (1961), filmatiserað í 1996, Charlie and the Chocolate Factory (1964), filmatiserað í 1971 og 2005, Dánjal á fuglaveiðu (1975 á føroyskum 1997) var gjørdur til sjónvarpsfilm í 1989, Heksirnar (1983 á føroyskum 1998) var filmatiserað í 1990. Tá ið bókin Matilda kom út í Onglandi í 1988, sló hon øll sølumet við hálvari millión eftir hálvum ári. Hon er síðani gjørd til film í 1996.
Roald Dahl trúi fult og fast uppá, at tað var sera týðandi at fáa børn at lesa bøkur.
Hann verður eisini hildin at vera høvundur, sum hevur dugað sera væl at funnið evni, sum fangar børn og at brúka eitt mál, sum er lætt og spennandi at lesa.
Útgávur:
1997 Dánjal á fuglaveiðu
1998 Heksirnar
2015 Heksirnar
2016 SFR-in
Umrøða:
Michael Rosen: Roald Dahl: My Hero. The Guardian 31. august 2012
Heiður:
1983 The Whitbread Award fyri Heksirnar
Costa Award fyri Heksirnar
1991 BILBY Award fyri SFR´in
1993 BILBY Award fyri Heksirnar
Heimasíða:
---